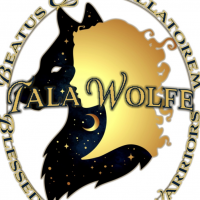 Tala Wolfe
Crime Fiction, Historical Mysteries, Thrillers, Suspense, Supernatural Suspense, Action & Adventure, Contemporary Romance, Historical Romance, Romantic Suspense, New Adult Romance, Paranormal Romance, Romance, Erotic Romance, Dark Romance & Erotica, Time Travel Rom
Tala Wolfe
Tala has different meanings in a few different cultures. Using these three cultures She embodies her name.

Samoan: Tell a tale

Tala loves creating new tales with unpredictable characters.

Phillipines: A large star

With a refreshing look at life Tala is focused on the stars to guide her way.

Native American Lakota: Alpha She Wolf

Pretty self explanatory. Tala is the ultimate Alpha She Wolf.

Tala Wolfe is a fun loving individual that can laugh in the face of pain. Moreover anger fuels her fire to succeed.

Tala has been a dog trainer for over twenty years. She has trained most breeds in everything from search and rescue to service dogs for children with autism

Tala Is dedicated to her husband and 8 year old son. Vincent shares his mother's love of story telling. They plan to start a new children's book series in 2020.

When the voices calm down and she can relax Tala and her family love to be outdoors hunting, fishing, or just relaxing.
Book: A garden carried in a pocket.
Arabian Proverb